Client: Nicoli's Grill & Sports Bar
Gametime was a small-time bowling alley and children's arcade that was operating in the red. The business lacked a solid and steady customer base and needed to make a dramatic change in order to keep the doors open. We transformed Gametime's position to be more of an upscale sports bar and event venue that offered family-friendly entertainment and a place for fans to enjoy watching their favorite teams. As part of the transition, we determined that a name and identity change along with updated messaging would serve to draw in the right target customers. The new name of Nicoli's was born after much research and field testing. With the name came a visual identity, a brand guide and message architecture. Within two years of the new brand launch, Nicoli's revenues and fan base had dramatically increased.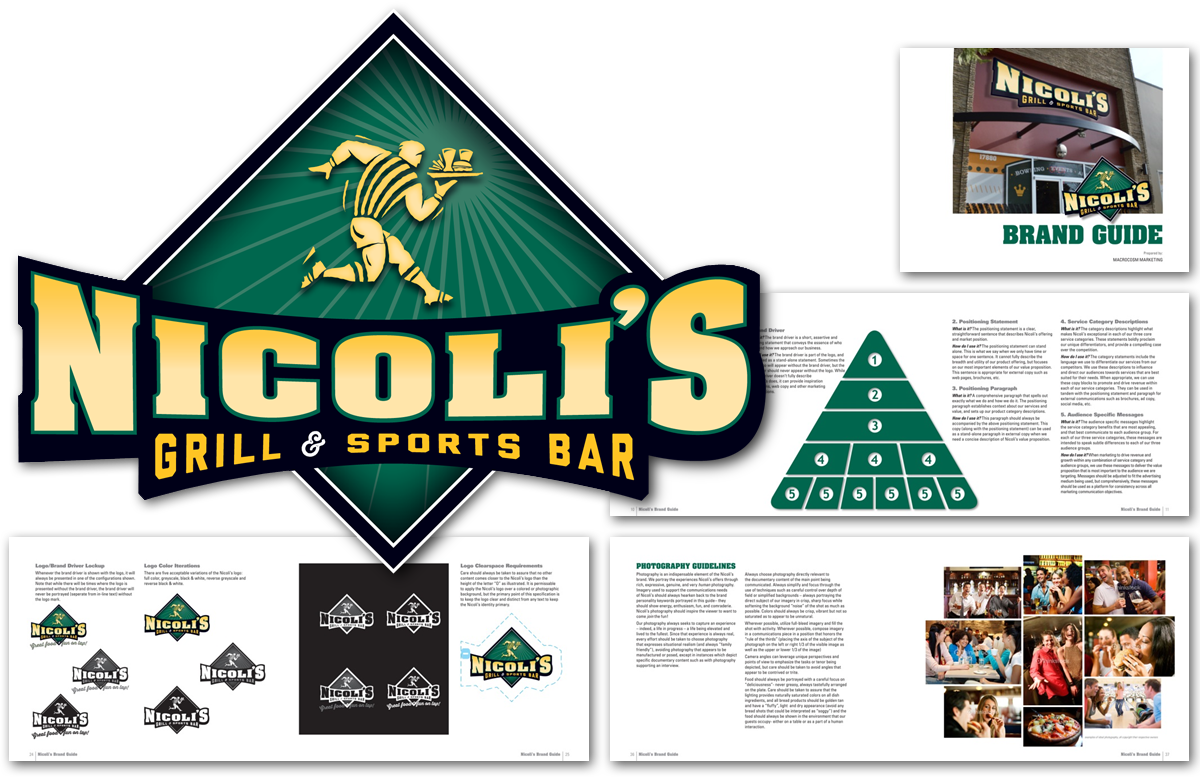 Logo/identity & Brand Guide
The Nicoli's logo was designed to speak to its target audience of mid to upper income males, age 25-34. The palette reflects some of the colors from the previous identity to maintain familiarity to the old brand while also appealing to the strong University of Oregon fanbase in the local community.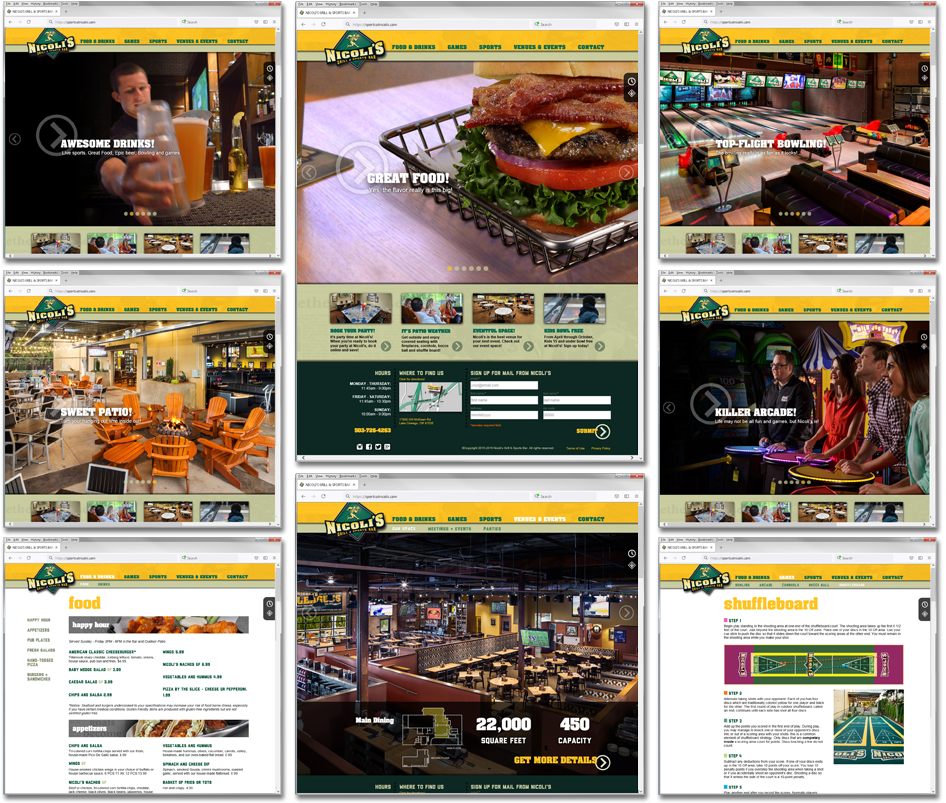 Website
The Nicoli's website was developed with several key considerations beyond those outlined in the brand guide. First it bolstered the credibility of Nicoli's as a serious player in a market with multiple local competitors – some of whom are national franchise organizations. It also refocused the emphasis on high quality food and beverages while retaining its traditional entertainment offerings of bowling and arcade games. It also introduced the event spaces in order to build new revenue streams.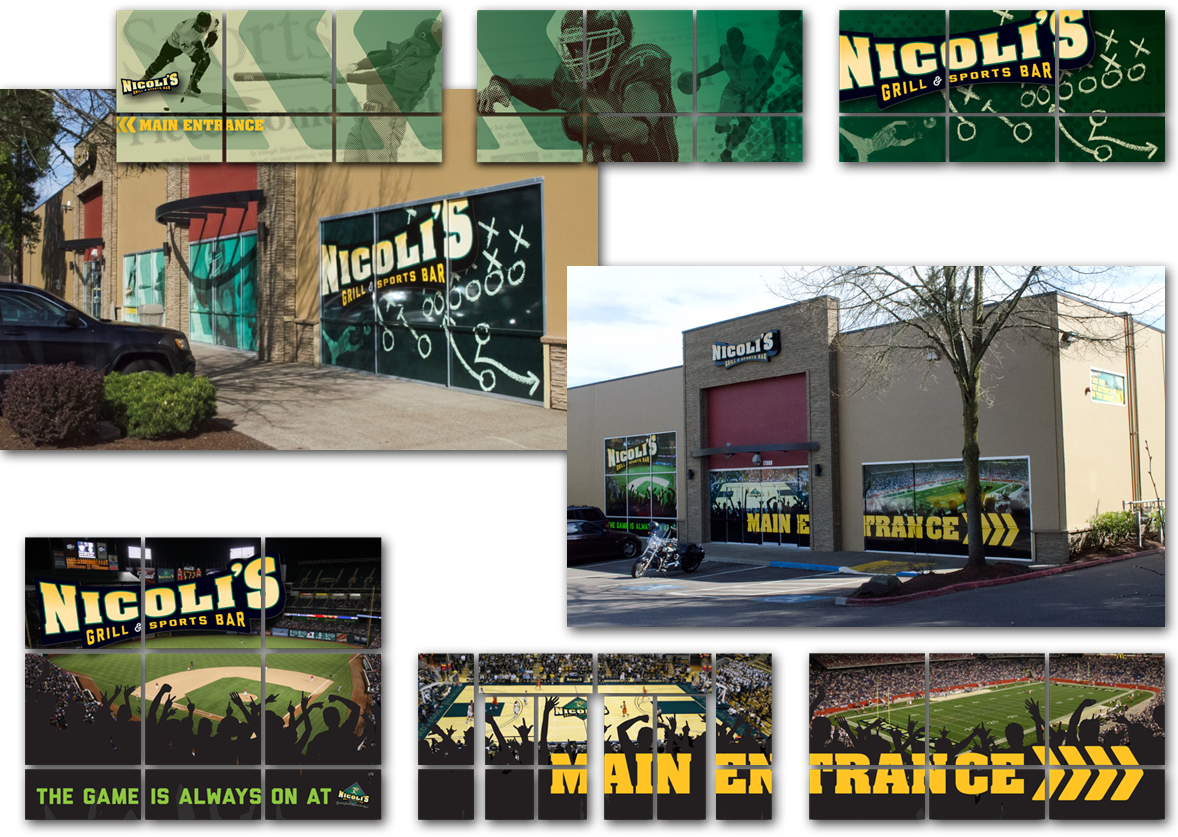 Exterior Facility Graphics
Nicoli's is located in the city of Tualatin, which maintains very strict control over exterior signage structures, offering few exceptions even for venues not readily seen from main thoroughfares. When the structure was originally built, passersby had unrestricted views of the building. Over the years, the primary roadway shifted and several businesses have been built around Nicoli's, which blocks its view and makes it harder to find.
External signage had been previously defined by local code, so the only option that would make Nicoli's visible and recognizable in a crowded business park was to provide signage on the inside surface of exterior window spaces. Mesh graphics reflected the Nicoli's brand while continuing to allow natural light to pour into the building.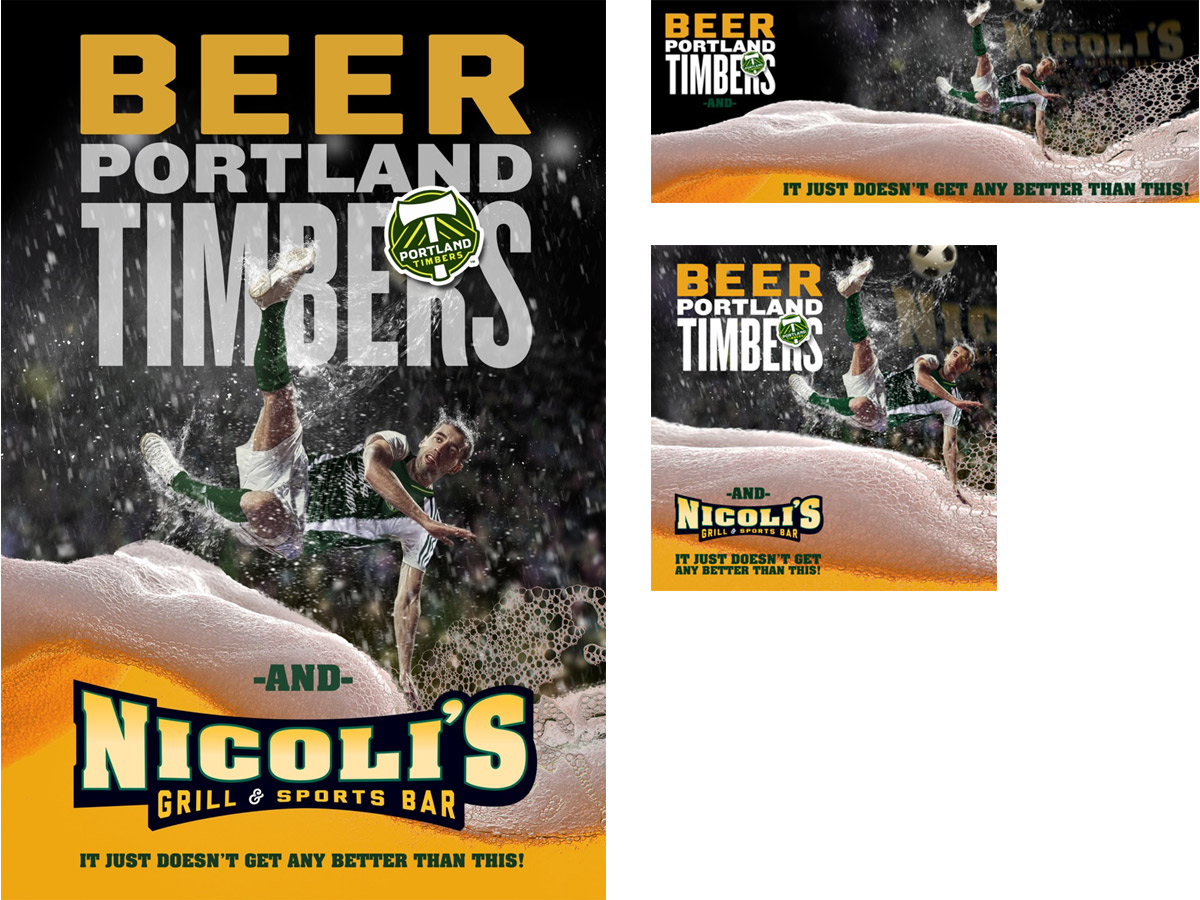 Portland Timbers Promotional Suite
In an effort to keep the interior of Nicoli's "fresh," we developed a series of seasonal and event-based promotional posters to be placed among frames of various sports memorabilia. The graphics would be updated on a regular basis to reflect seasonal sports and local teams. The Portland Timbers promotion was one such effort that also entailed a social media component for distribution via Facebook and Google advertising campaigns.
Similar campaigns were developed around both televised national sporting events like UFC Fight Nights and Portland Winterhawks hockey events among others.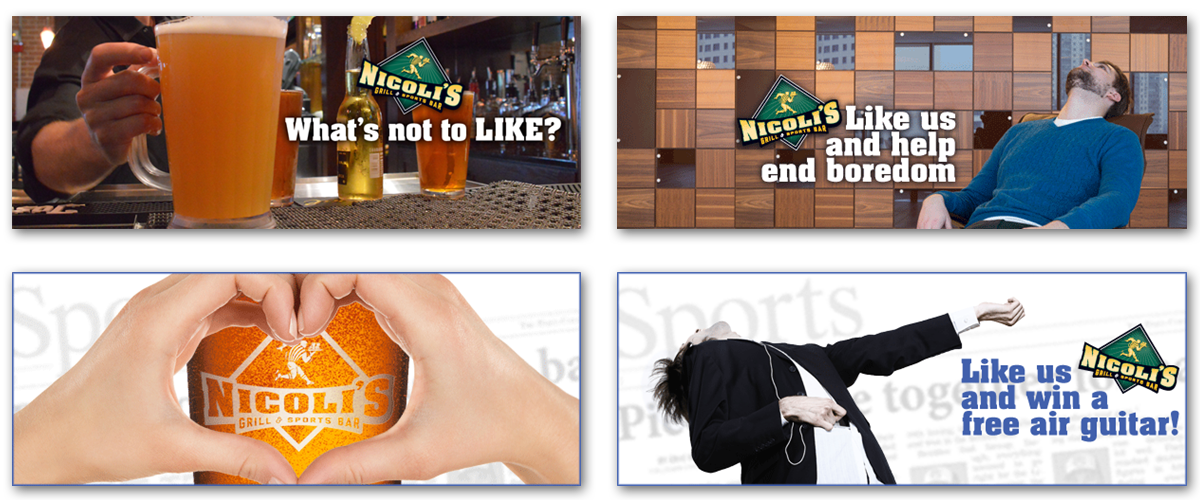 Facebook "Likes" campaign
Additional low-cost advertising efforts included things like ongoing consumer engagement campaigns to increase local awareness and grass-roots support for the newly launched Nicoli's brand.