Client: Intel
My work on Intel-branded projects spans several decades and three different design agencies, numerous iterations of their brand and involved a broad range of departments and deliverables.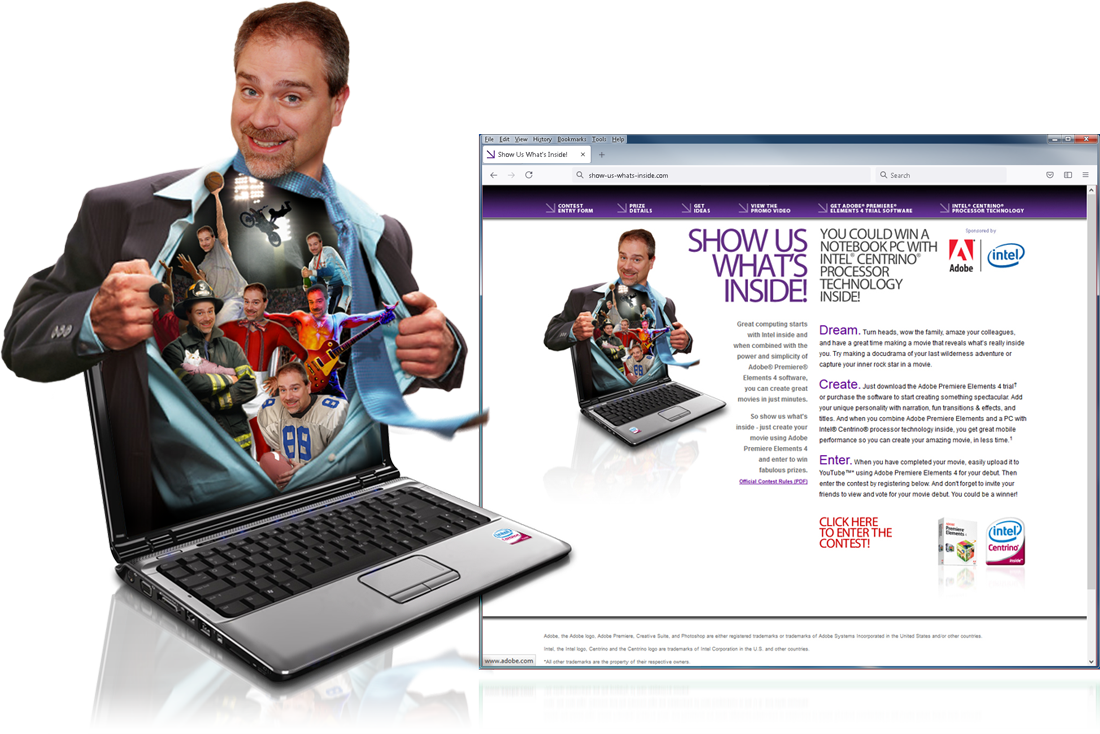 Intel/Adobe Premier Elements promotion
Adobe and Intel combined resources and asked us to promote both the new Adobe Premier Elements software and Intel's latest platform designed to appeal to aspiring amateur video producers. Our solution was a campaign based on a judged video contest that required participants to leverage the "Premier Elements" software. Grand prizes included full versions of Adobe Premier software and a high-performance Intel computer system.
The project scope included contest design and administration, website and video example. The campaign also included a social media component well before such efforts were commonplace.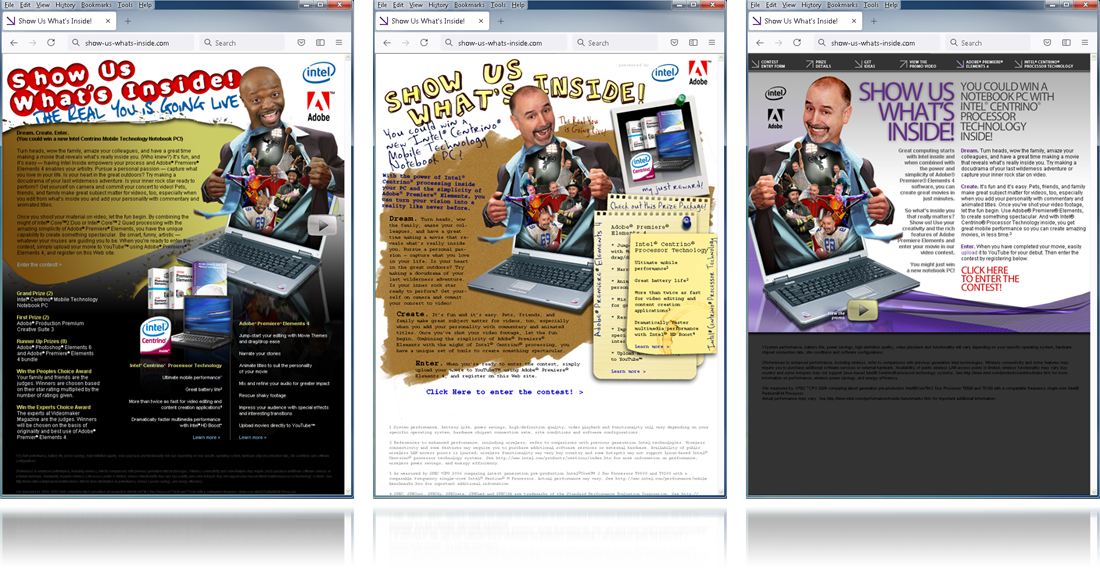 Since this was a co-branded effort, alternate designs of the promotional theme proposed a more "grass-roots" and "home-grown" visual appeal, but were rejected in favor of strict Adobe visual guidelines. Other campaign spokesmodels were also proposed, but the Adobe staff insisted that I present myself as the face of the campaign.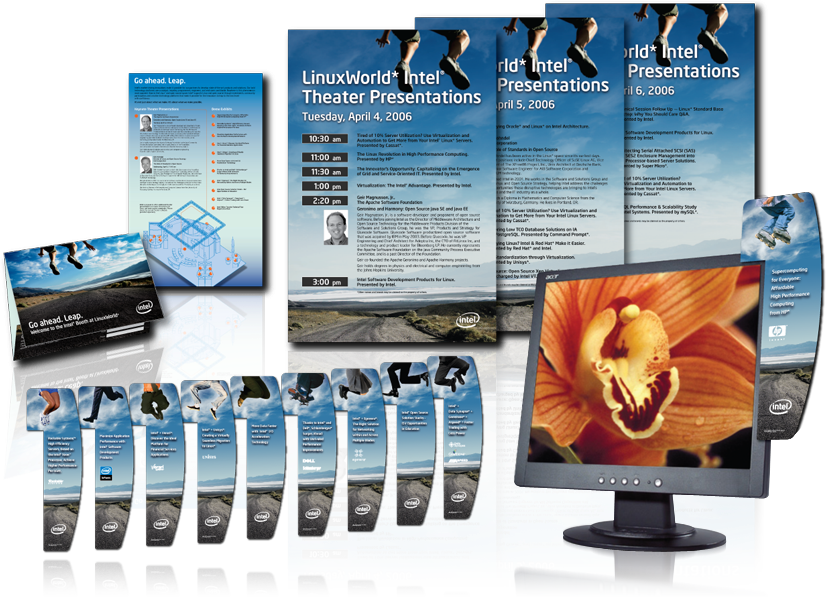 Linux World Booth Support Elements
One of my very first projects as Creative Director for Kennedy Global was to provide tradeshow booth support for Intel's participation in the 2006 Linux World Expo.
Because of my previous work with Intel, I was aware of the eminent launch of the "Leap Ahead" campaign slogan and was given permission to apply it to Intel's presence at the convention. Our client loved the approach so much that just prior to the event, they shifted the visual focus of the rest of their theme to more tightly match my visual approach.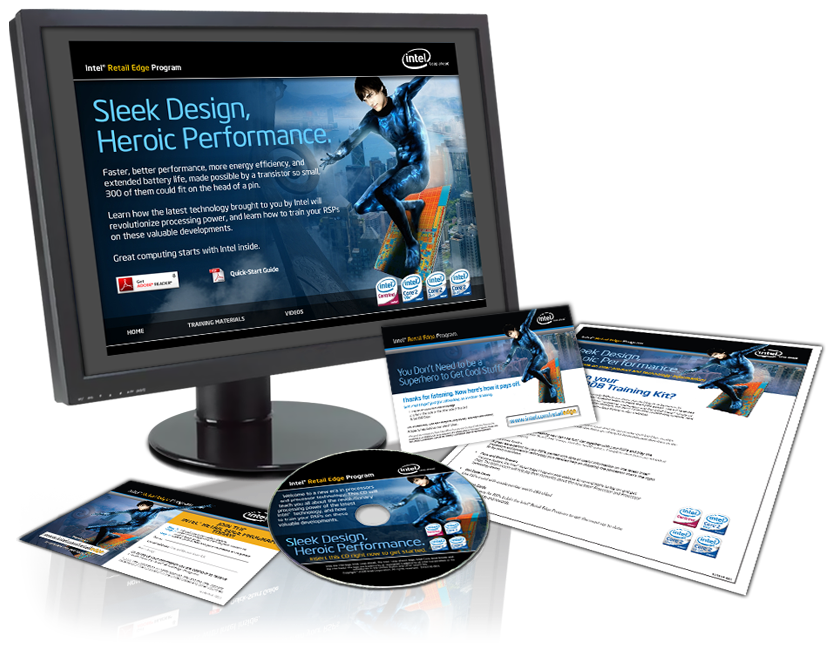 Intel Retail Edge Training Components
I was introduced to the Intel Retail Edge program while working as the principle art director on the Intel account at the CMD agency. When I moved over to Kennedy, the Retail Edge group moved with me.
Our work included the design and development of quarterly promotional campaigns that provided education and engagement for sales associates at big box stores like Best Buy. Deliverables included a range of print and electronic tools that offered speaking points and training that helped sales associates more effectively talk to customers about the features and benefits of Intel products. The material was designed to be fun and engaging so that associates would take the time to learn about the Intel brand and its range of offerings.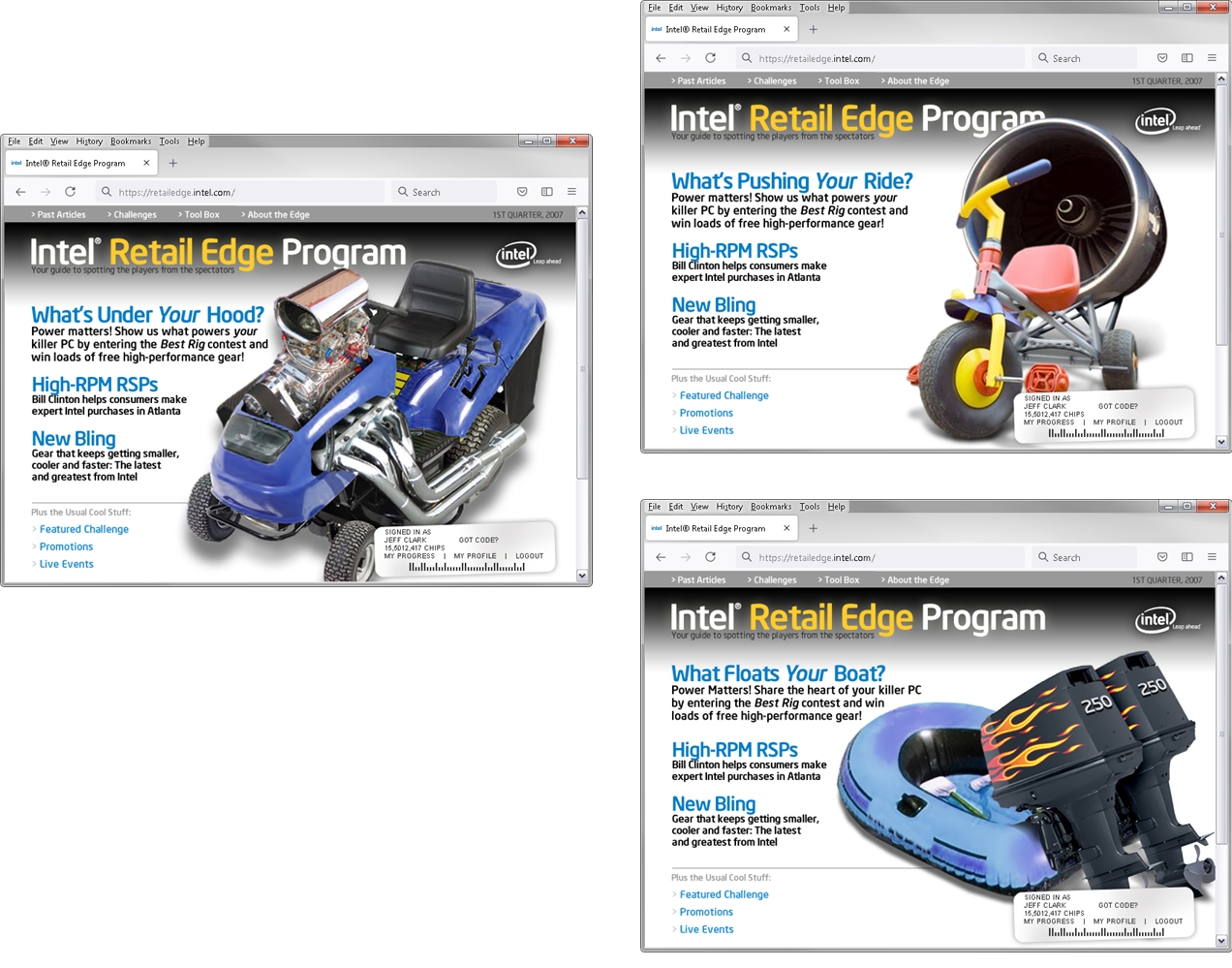 Retail Edge Portal Site
To supplement the quarterly promotional kits mentioned above, Intel also wanted to update a web portal that expanded upon the information in the kits and offered further interaction and opportunities for training. Since participation is strictly voluntary, Intel wanted the portal to be enticing and engaging, even beyond the product-based incentives Intel provided to meet their goals.
The site re-design included easy-to-find personal subscription information and guided users through a selection of feature articles, sales contests, and "insider" future product hints. The first design concept utilized a magazine-style format to provide personal account info to the participants through a faux mailing label. The messages in the comps suggested the speed and power of Intel equipment while also speaking to the "gadget geek" through humorous and fun imagery.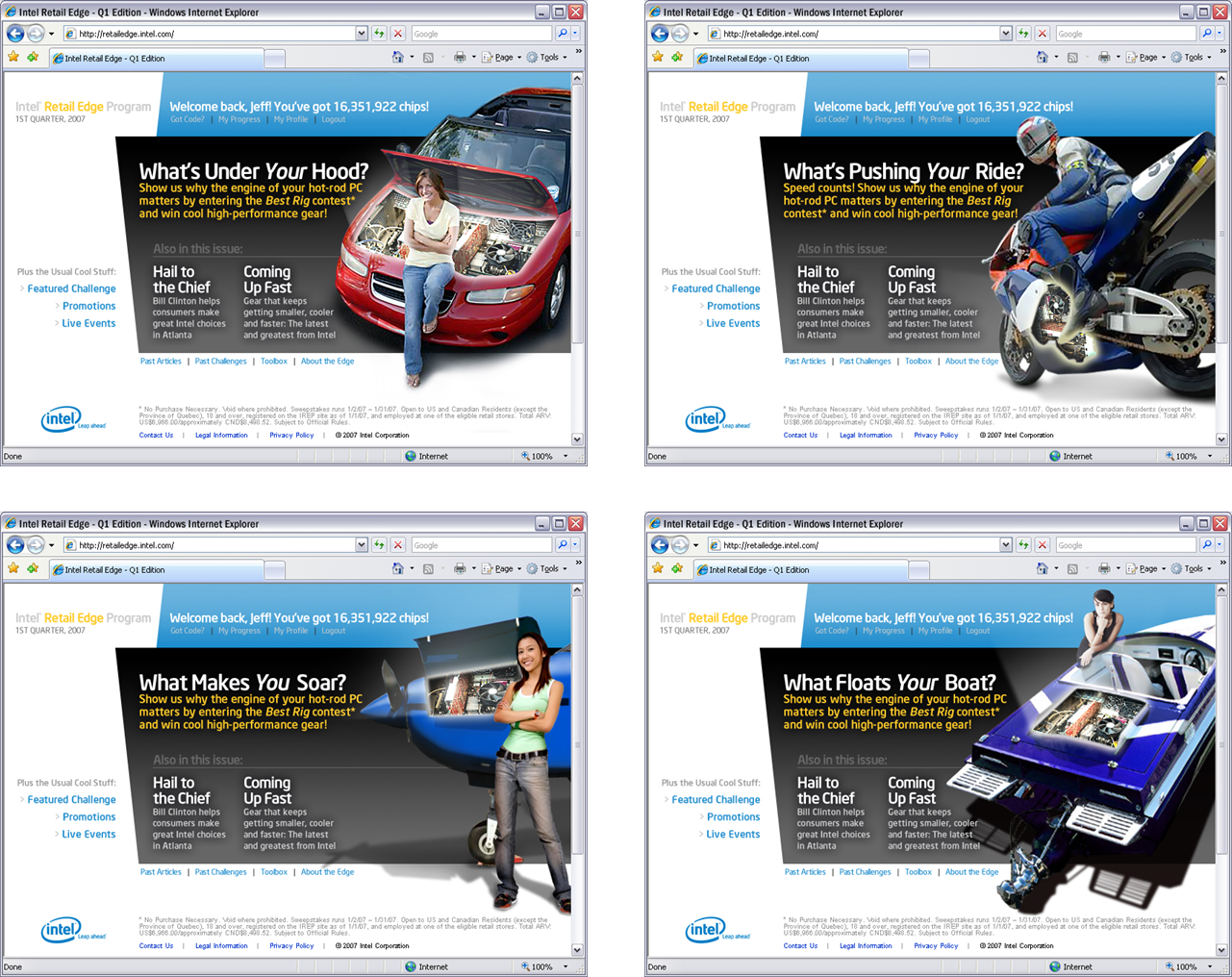 The second approach utilized a traditional web format tied to provocative headlines and imagery targeted at a young, male audience. Each edition of this series sought to connect with the young male's primal instinct for adventure and also made the subtle suggestion that being connected with these "sources of power" were irresistible to the opposite sex.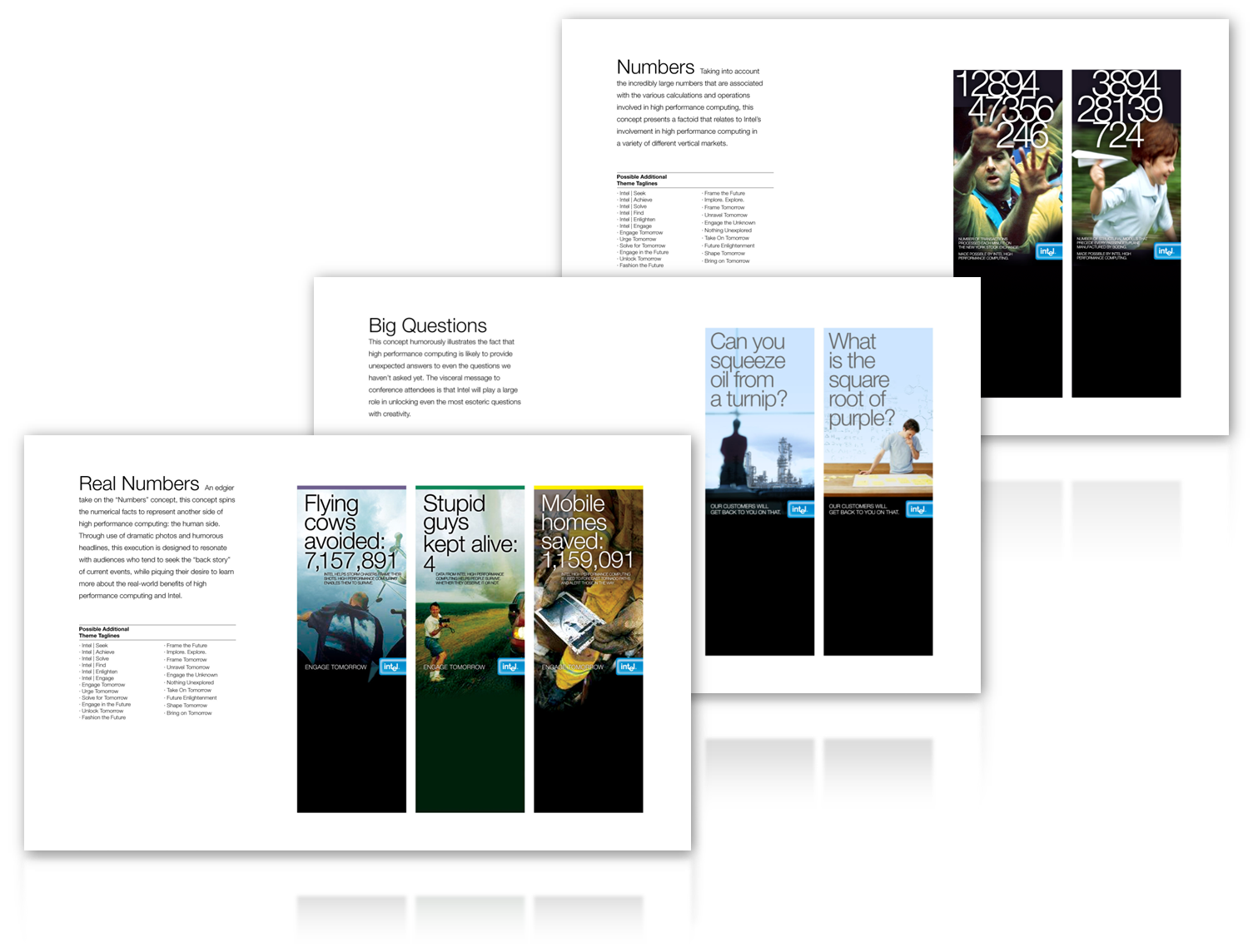 Tradeshow Booth Focus Concepts
In a tradeshow environment where every exhibitor seems to be visually screaming for attention, these booth property graphic themes took on a subtly different tack: entice curiosity with evocative content. By presenting their position in the form of questions, Intel was able to rise above the din with a virtual whisper.